Damien Salançon begins piano lessons at the age of 9. In his teenage years he learns also oboe, electric guitar, drums, and synthesizers.
After high school graduation he moves from his hometown Montpellier (France) to Boston and enrolls in the Berklee college of music film scoring program. He graduates in 1996, then moves back to France and establishes himself in Paris.
He will later on complete his knowledge of orchestration with orchestrator Conrad Pope (Star Wars, Lord of the Rings) and mixing skills with Mixer Alan Meyerson (Batman, Gladiator, Inception).
His carreer starts by composing for TV commercials (L'Oréal, Mercedes, McDonalds) and short films. He then moves on towards TV series, arranging and co-composition for established composers. His credits include Spirals (season 3, 4 and 5), Cherif (season 2 to 6), Blood of the Vine (Season 1), Alice Nevers...
In 2013 he writes his own score for the TV movie Les mauvaises têtes directed by Pierre Isoard.
The year before he wrote the music for the European campaign Disneyland Paris 20 years anniversary.
Between 2015 and 2022 he composes numerous musics for radio fiction series: The truth about Harry Québert's case, Night milk man, Beyond Evil's border, by director Pascal Deux, whom he met at the French artist residencies Émergence.
In 2017, he writes the music for the documentary Let the child be the guide, about the Montessouri child education method, directed by Alexandre Mourot.
He is also active in the movie business, writing and conducting the orchestral arrangements for the movies We are family (2016), What is this granny? (2019),What is this grandpa ? (2020), collaborating with singer Da Silva and composer Frédéric Fortuny.
He co-composed and arranged his first score for animation with the French-german movie The fairy princess and the unicorn (2019).
He also collaborates on a regular basis with singers. He's written strings parts for French stars Jenifer, Julie Zenatti, Da Silva, Olivier Zanarelli.
He recently released a pop-cinematographic album The Hours under the artist name Damien Esse.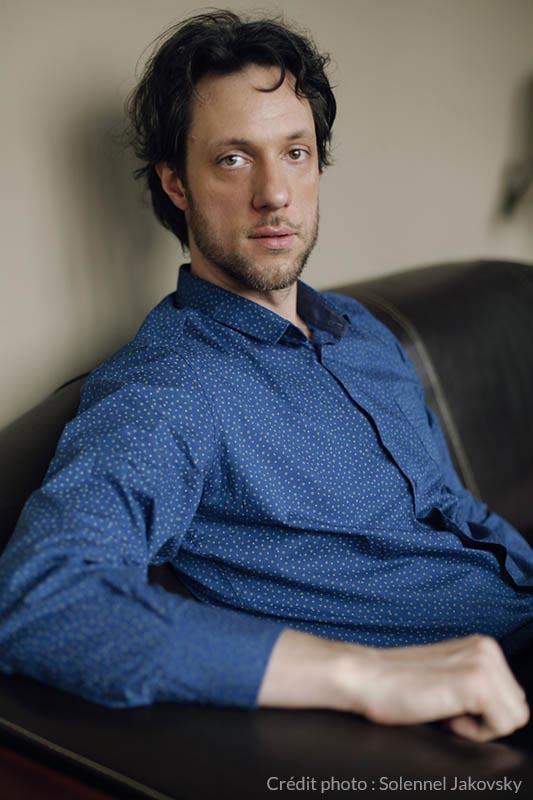 2022 Trois fois rien by Nadège Loiseau - orchestrations
2021 What is this grandpa? by Gabriel Julien-Laferrière - arrangements and orchestra conducting
2020 Ducobu 3 by Elie Seymoun - orchestral arrangements
2019 The fairy princess and the unicorn by Aina Järvin - Co-composer, orchestral arrangements
2019 What is this granny? by Gabriel Julien Laferrière - arrangements and orchestra conducting
2017 Let the child be the guide by Alexandre Mourot - composer
2016 We are family by Gabriel Julien-Laferrière - arrangements and orchestra conducting
2016 A bun in the oven by Nadège Loiseau - orchestrations
2014 Anything for Alice by Nicolas Cuche - additional arrangements
2012 Zaitoun by Eran Riklis - orchestrations
2011 Second chance by Nicolas Cuche - additional arrangements
2010 Invisible eyes by Olivier Cohen - composer
2007 Bouche à bouche (short film) by Louis Dupont - composer
2004 Monter le drapeau (short film) by Bruno Duron - composer
2022 Alice Nevers - Tv series - co-composer
2021 Christmas flow by Nadège Loiseau -Netflix series - orchestrateur
2021 Je l'aime à mentir by Gabriel Julien Laferrière - Tv movie - arrangements cordes
2019 Cherif season 6 - Tv series - arrangements
2018 Cherif season 5 - Tv series - arrangements
2017 Cherif season 4 - Tv series - arrangements
2017 Juste one look by Harlan Cobern - Tv series - co-composition
2016 Cherif season 3 - Tv series - arrangements
2015 Cherif season 2 - Tv series - arrangements
2014 Spirals season 5 - Tv series - arrangements
2013 Les mauvaises têtes by Pierre Isoard - composer
2013 La croisière - Tv series - arrangements
2012 Inquisitio - Tv series - arrangements
2012 Spirals season 4 - Tv series - arrangements
2012 Caïn season 1 - Tv series - arrangements
2011 Blood of the vine season 1 - Tv series - arrangements
2010 Spirals saison 3 - Tv series - arrangements
2009 Sa raison d'être by Renaud Bertrand - Tv movie - arrangements
2022 Beyond Evil's border season 2 by Pascal Deux - radio fiction France Culture
2017 2 light bulbs out of 5 by Pascal Deux - radio fiction France Culture
2016 Night milk man by Pascal Deux - radio fiction France Culture
2016 Beyond Evil's border by Pascal Deux - radio fiction France Culture
2015 The truth about Harry Québert's case by Pascal 2015 Deux - radio fiction France Culture
2022 Poudre de lune by Olivier Zanarelli - string arrangements
2021 The hours by Damien Esse - composer
2017 Paradis secret by Jenifer - orchestral arrangements
2017 L'aventure by Da Silva - string arrangements
2015 Blanc by Julie Zenatti - string arrangements
2021 composer scholarship CNM
2017 SACEM permanent member
2007 Laureate Emergence summer University, Paris
2003 Laureate film music competition SIRAR, Aubagne
1996 Berklee College of Music graduation in film scoring
1996 Laureate "40 à Cannes" – department of youth and sport